Phone apps for foodies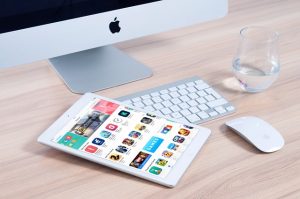 We all know how much technology has helped improve our lives, especially since the smart phone boom. There are apps for just about everything including ordering spare computer parts!  One of the areas I find most interesting is the surge in mobile apps specifically designed for food. It is, after all, something we must do in order to survive. Whether you are a home cook, lover of eating out in restaurants, cafes or pubs, or enjoy eating take away on the comfort of your own couch, there is apps out there to cater for your needs. Here is a brief run down on some of the apps available to download.
For the stay at home chef: Epicurious.
There are so many home-cooking apps available, but Epicurious is probably the best. Epicurious is easily one of the most trusted recipe apps on the market. With it's well designed user interface, over 30,000 member rated recipes and extra functions such as shopping list manager and voice activated commands to use while you are cooking, it's easy to see why this is one of the most popular apps out there. It features everything from gourmet delights to easily prepared snacks for cooks of all experiences.
For the health conscious: Lifesum.
Lifesum goes well beyond just helping users track their nutrition as it also allows users to build an all-round healthy lifestyle. Users are able to choose a specifically designed fitness plan, track their food intake and select their health goal, whether it's toning up, weight loss or general health and fitness. It also allows users to track progress and receive feedback and advice.
Take away foodies: Foodora.
Sometimes we all want the tasty variety of eating out without having to leave the comfort of our own homes. (Especially in the colder months.) There are so many food delivery apps available these days, but one of the best if Foodora. It is unique in that it only features restaurants that serve up high quality food. It also features a handy tracking function that allows the user to know exactly where the order is and how long until it arrives.
Restaurant lovers: Zomato.
Formally known as Urbanspoon, Zomato is extremely popular. Featuring a well-streamlined interface, it allows users to compare restaurants by ratings, cuisine popularity and distance. Users are able to check out menus, read reviews by both food fans and critics, and even browse galleries of food images. It even features a function that allows users to make reservations at particular restaurants. Basically everything you need, especially if dining in a city you are not familiar with.
This is only the tip of the iceberg, so if you are a tech savvy foodie, go online and have a look at all the other meal related apps that are available. All this talking about food is making me hungry. Bon appetite readers.